Healthit.gov > Health IT Dashboard > Quick-Stats > Hospital Routine Electronic Notification
Hospital Routine Electronic Notification
Percent of U.S. Hospitals that Routinely Electronically Notify Patient's Primary Care Provider upon Emergency Room Entry
2014
This visualization may require more screen width to render optimally. Flip your mobile device to landscape to get an enhanced view of the visual below, or touch to scroll the image. To get the best view, try out this page on a tablet or desktop computer. Use the share icon in the menu to check out this page later.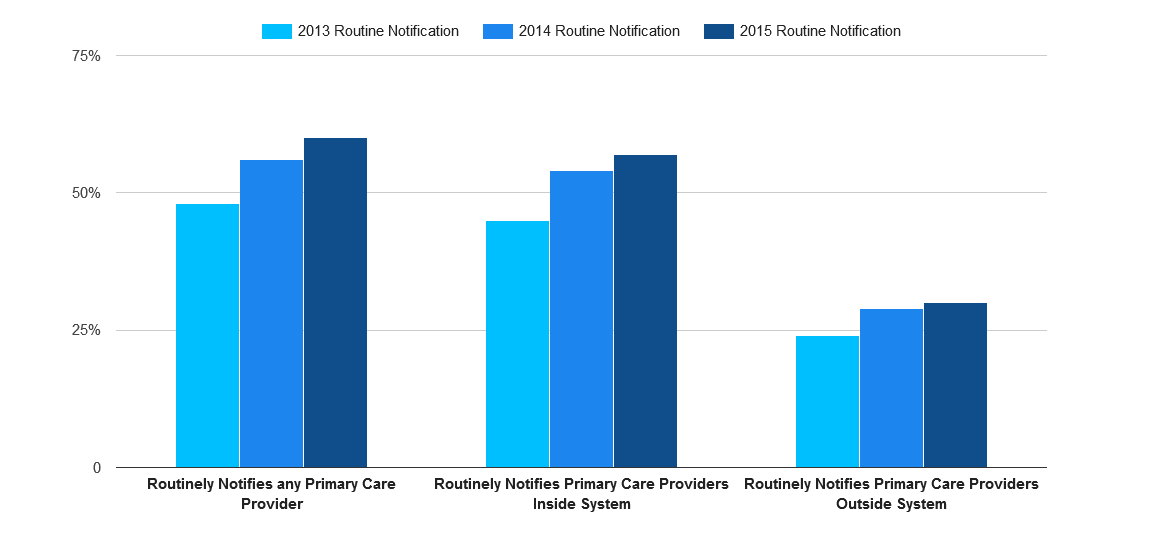 View Hospital Adoption & Exchange Related Content:
Summary:
Over one-half of all non-federal acute care hospitals routinely electronically notify a patient's primary care provider upon his entry to the hospital's emergency department -- an 8 percentage point increase from 2013. 54 percent of all hospitals routinely electronically notify primary care providers inside the hospital's system; whereas, 29 percent of all hospitals routinely electronically notify physicians outside the hospital's system.
For more information on Hospital Health Information Exchange, please read ONC Data Brief #24, Health Information Exchange among U.S. Non-federal Acute Care Hospitals: 2008-2014.
Source:
ONC/American Hospital Association (AHA), AHA Annual Survey Information Technology Supplement.
Notes:
[1] Data reflect the responses of 60% of all non-federal acute care hospitals.
[2] Data calculated from answers to survey questions: "When a patient visits your Emergency Department, do you routinely provide electronic notification to the patient's primary care physician?" [Yes/No] and "If yes, are electronic notifications provided to primary care physicians listed below?" [Inside of Your System/Outside of Your System]
Suggested Citation
Office of the National Coordinator for Health Information Technology. 'Percent of U.S. Hospitals that Routinely Electronically Notify Patient's Primary Care Provider upon Emergency Room Entry,' Health IT Quick-Stat #26. dashboard.healthit.gov/quickstats/pages/FIG-Hospital-Routine-Electronic-Notification.php. June 2015.