Healthit.gov > Health IT Dashboard > Quick-Stats > Hospital EHR Vendors
Hospital EHR Vendors
EHR Vendors Reported by Hospitals Participating in the CMS EHR Incentive Programs
March 2015
This visualization may require more screen width to render optimally. Flip your mobile device to landscape to get an enhanced view of the visual below, or touch to scroll the image. To get the best view, try out this page on a tablet or desktop computer. Use the share icon in the menu to check out this page later.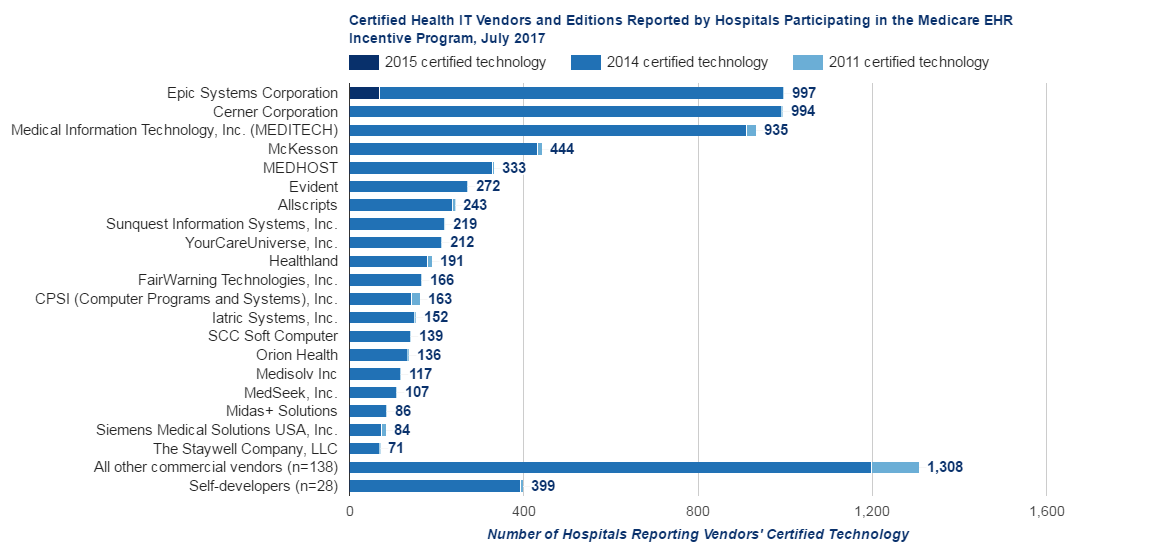 Note: Within a hospital's EHR system, a primary EHR is a complete EHR or, if the hospital does not have a complete EHR, it is the EHR that meets the most Meaningful Use criteria. If a hospital has two or more complete EHRs, all of these EHRs are considered primary for the purpose of this report. A secondary EHR is any additional modular EHR used within the hospital's EHR system. *93 of the 149 Other Vendors only supply secondary EHRs to participating hospitals. Of the 56 Other Vendors that supply hospitals their primary EHR, 47 vendors supply a primary EHR to less than 10 total hospitals with 25 vendors supplying a primary EHR to only one hospital each.
View EHR Vendor Related Content:
Summary:
As of March 2015, 179 health IT vendors supply certified EHR products to 4,567 hospitals participating in the CMS EHR Incentive Programs.
Cerner, MEDITECH, and Epic Systems comprise nearly 60% of the market share of primary certified EHRs for participating hospitals. Furthermore, the top 10 EHR vendors provide the primary EHR for over 9 out of 10 hospitals. For the remaining 169 hospital EHR vendors, 9 out of 10 of all hospitals reporting these vendors report the vendor's product as their secondary EHR.
Check out the EHR Vendors for Hospitals Demonstrating Meaningful Use dashboard for national maps of vendor market share.
Source:
Office of the National Coordinator for Health IT analysis of data from the Centers for Medicare and Medicaid Services' Electronic Health Record (EHR) Incentive Programs. You can access the latest data and documentation through the EHR Vendors Reported by Providers Participating in Federal Programs data page.
Suggested Citation:
Office of the National Coordinator for Health Information Technology. 'Electronic Health Record Vendors Reported by Hospitals Participating in the CMS EHR Incentive Programs,' Health IT Quick-Stat #29. dashboard.healthit.gov/quickstats/pages/FIG-Vendors-of-EHRs-to-Participating-Hospitals.php. June 2015.