Healthit.gov / Health IT Dashboard / Apps / ONC Budget Performance Measures
ONC Budget Performance Measures
Time series of ONC's budget performance measures
2009 - 2016
This visualization may require more screen width to render optimally. Flip your mobile device to landscape to get an enhanced view of the visual below. To get the best view, try out this page on a tablet or desktop computer. Use the share icon in the menu to check out this page later.
Right-click the graphic to save.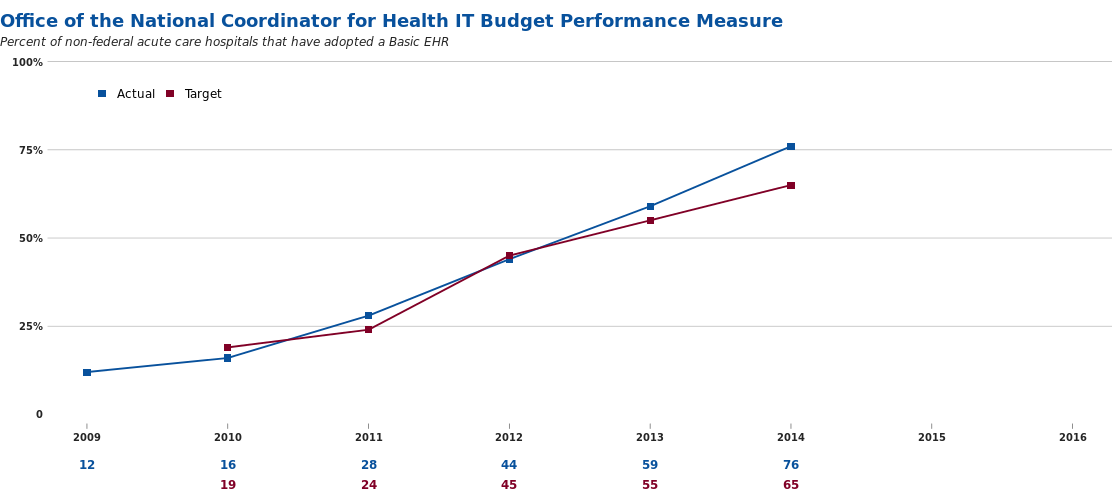 Data:
[.csv] // [.json] // [.xml]. See the data documentation for more information.
Overview:
As part of the annual budget formulation process, ONC provides updates to measures that track the performance of agency priorities and goals. This visual provides access to these measures' time series trends. These measures track agency priorities for electronic health record adoption, health information exchange, patient engagement, and privacy and security. See ONC's full catalog of budget documents to find out more about ONC's annual budget and its formulation process. See the HHS Strategic Plan to see how ONC factors into the Plan's annual priorities.
Measure List:
Access the metadata: [.xml]
Suggested Citation:
Office of the National Coordinator for Health Information Technology. 'ONC Budget Performance Measures,' Health IT Dashboard. http://dashboard.healthit.gov/apps/onc-budget-performance-measures.php. January 2016.