Healthit.gov / Health IT Dashboard / Quick-Stats / Physician e-Rx through an EHR
Physician e-Rx through an EHR
Percent of Physicians e-Prescribing through an Electronic Health Record
December 2013
This visualization may require more screen width to render optimally. Flip your mobile device to landscape to get an enhanced view of the visual below, or touch to scroll the image. To get the best view, try out this page on a tablet or desktop computer. Use the share icon in the menu to check out this page later.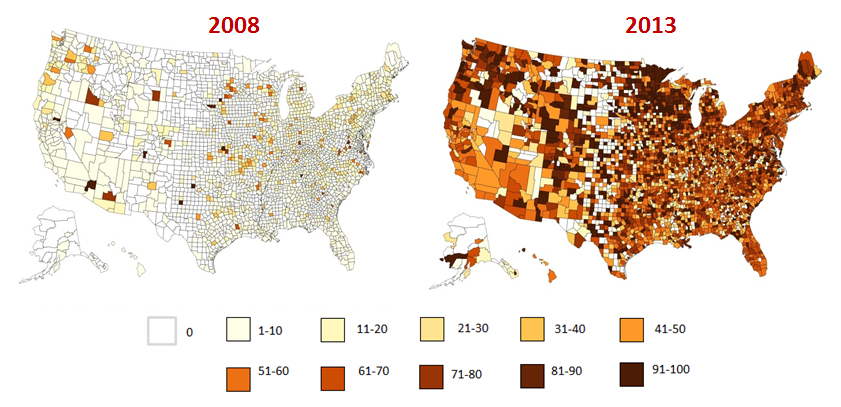 Summary:
In the past five years, physician Electronic Health Record (EHR) adoption has surged, reaching all corners of the country. The percentage of physicians e-Prescribing via an EHR has accelerated from 7 percent in December 2008 to 66 percent as of December 2013.
See this graphic for an animation of e-Prescribing acceleration from 2008 through 2013.
Source:
ONC analysis of Surescripts e-Prescribing transaction data.
Notes:
Maps depict the percent of physicians e-Prescribing through an EHR by county. Data as of December 2008 to December 2013.
Suggested Citation:
Office of the National Coordinator for Health Information Technology. 'Percent of Physicians e-Prescribing through an Electronic Health Record,' Health IT Quick-Stat #17. dashboard.healthit.gov/quickstats/pages/FIG-Percent-Physicians-eRx-through-EHR.php. February 2014.