Healthit.gov > Health IT Dashboard > Quick-Stats > Regional Extension Centers (REC) Priority Primary Care Providers Meaningful Use Milestone
Regional Extension Centers (REC) Priority Primary Care Providers Meaningful Use Milestone
The REC Program's goal is to assist 100,000 or more priority primary care providers (PPCPs) to achieve meaningful use of an EHR
January 2016
This visualization may require more screen width to render optimally. Flip your mobile device to landscape to get an enhanced view of the visual below, or touch to scroll the image. To get the best view, try out this page on a tablet or desktop computer. Use the share icon in the menu to check out this page later.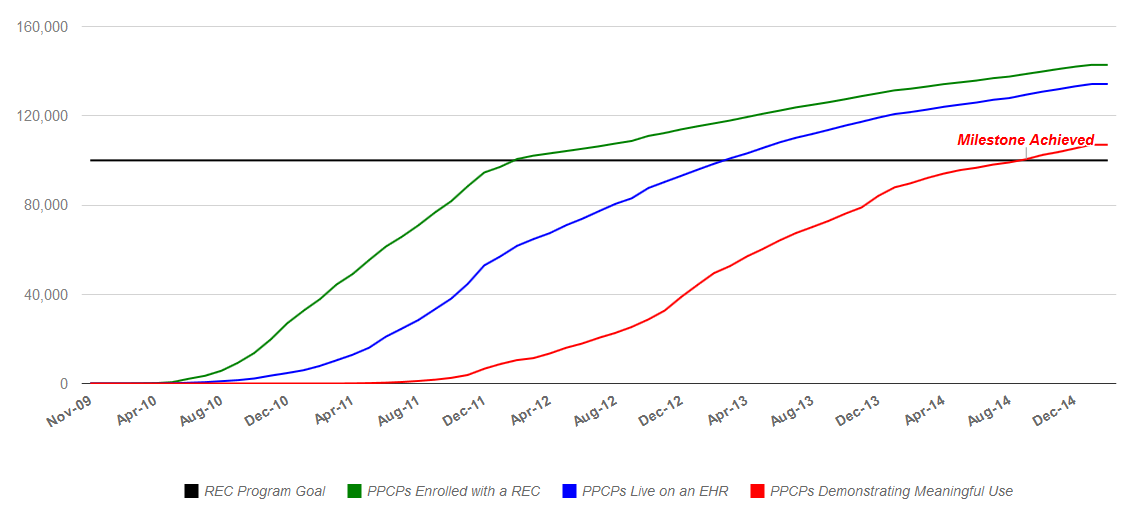 View more Regional Extension Centers (REC) Related Content:
Summary:
As of January 2016, the REC program has exceeded its target to enroll and assist 100,000 priority primary care providers (PPCPs) to demonstrate meaningful use (MU) of certified EHR technology (CEHRT). RECs support providers' adoption of CEHRT and richer functionality of MU, including: clinical quality reporting, e-prescribing, and medication reconciliation to improve patient care and successfully demonstrate the MU stage 1 criteria. While some providers had an EHR installed before REC assistance commenced, almost all providers required system upgrades or requested a full EHR replacement to implement CEHRT to reach MU. As of January 2016, 95 percent of REC-enrolled PPCPs (136,726 providers) have an EHR installed and are routinely using the technology, and over 78 percent of all REC-enrolled PPCPs (112,804 providers) had demonstrated MU of CEHRT.
Source:
Customer Relationship Management (CRM) Tool data as of January 19, 2016, maintained by the Office of the National Coordinator for Health IT (ONC), Office of Programs and Engagement.
Notes:
[1] Priority primary care providers (PPCPs) are defined by the HITECH act as primary care providers (physicians, nurse practitioners and physician assistants) in individual and small group practices (less than 10 professionals) primarily focused on primary care, public and critical access hospitals, community health and rural health centers, and other settings serving predominantly uninsured, under-insured and medically under-served populations.
[2] These data include only providers designated as PPCPs by the REC.
[3] Live on an EHR is defined as Documentation of Go-Live status on an EHR, with active quality reporting and electronic prescribing.
[4] Demonstrating meaningful use includes all PPCP providers regardless of whether or not an REC has received grant credit for the provider.
Suggested Citation:
Office of the National Coordinator for Health Information Technology. 'Regional Extension Centers Program Meaningful Use Milestone,' Health IT Quick-Stat #36. dashboard.healthit.gov/quickstats/pages/FIG-REC-Program-Priority-Primary-Care-Provider-Meaningful-Use-Milestone.php. January 2016.