Healthit.gov / Health IT Dashboard / Quick-Stats / HITECH Workforce Development Programs
HITECH Workforce Development Programs
Students Trained for Health IT Employment through the HITECH Workforce Development Programs
2013
This visualization may require more screen width to render optimally. Flip your mobile device to landscape to get an enhanced view of the visual below, or touch to scroll the image. To get the best view, try out this page on a tablet or desktop computer. Use the share icon in the menu to check out this page later.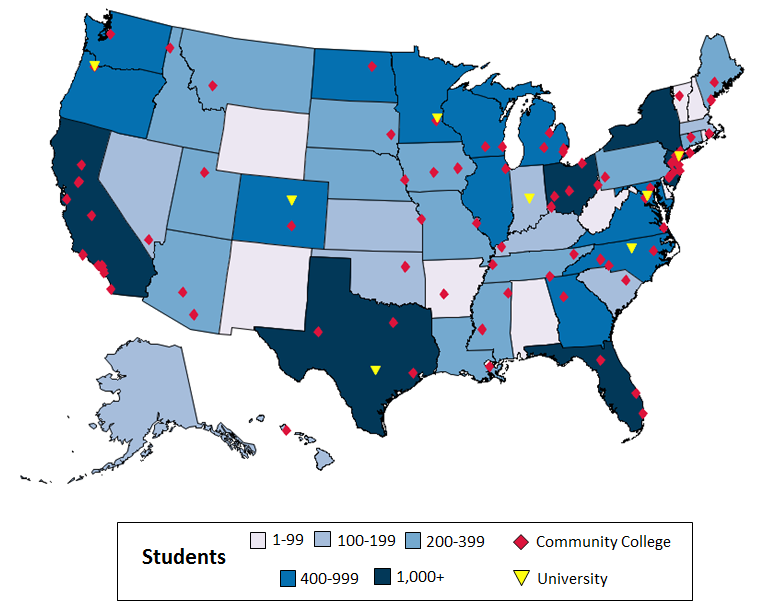 Students Trained by Workforce Program
Summary:
HITECH funded two distinct health IT workforce training programs: the University-Based Training Program and Community College Consortia Program. In total the two programs trained 21,437 students from all 50 states, the District of Columbia, Puerto Rico, and the U.S. Virgin Islands at 91 academic institutions.
Source:
ONC HITECH Workforce Programs Operations Data. Download the Workforce Program open dataset
Notes:
[1] For more information, please read the Workforce Development Programs Final Evaluation Report, completed by NORC of the University of Chicago.
[2] For a quick summarization of Workforce Development Programs results, check out this ONC InfoGraphic.
Suggested Citation:
Office of the National Coordinator for Health Information Technology. 'Students Trained for Health IT Employment through the HITECH Workforce Development Programs,' Health IT Quick-Stat #20. dashboard.healthit.gov/quickstats/pages/FIG-Students-Trained-for-Health-IT-Employment.php. March 2014.